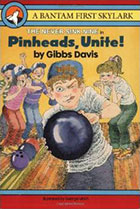 Find this book
at your local library.
Purchase this book at your favorite used bookstore, such as ABEbooks.com.
back to books
BOOKS
Pinheads, Unite!
Never Sink Nine series #9
written by Gibbs Davis
Yearling, 1994
ages 7 to 10, ISBN 978-0553481327
When a local bowling league sponsors a grandparents/grandkids tournament, Grandpa Walt asks Walter to be his "pinhead" partner. Walter's not happy about being "second choice"—big brother Danny was asked first—but he wants to prove that he's just as good as Danny. Can Walter win the tournament for Grandpa Walter even when another
bowler's granddaughter is trying to jinx him?
Each book features a different team member (boy or girl), and a game. Teammates on and off-the-field, the Never Sink Nine deal with school, family life, and sportsmanship.