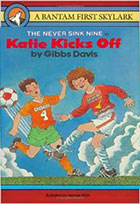 Find this book
at your local library.
Purchase this book at your favorite used bookstore, such as ABEbooks.com.
back to books
BOOKS
Katie Kicks Off
Never Sink Nine series #8
written by Gibbs Davis
Yearling, 1993
ages 7 to 10, ISBN 978-0553480795
Some members of the Never Sink Nine have signed up for soccer. Walter is happy he's on the same team as star player, Katie. But just before the big game Katie decides to quit.
Each book features a different team member (boy or girl), and a game. Teammates on and off-the-field, the Never Sink Nine deal with school, family life, and sportsmanship.