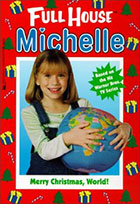 Find this book
at your local library.
Purchase this book at your favorite used bookstore, such as ABEbooks.com.
back to books
BOOKS
Merry Christmas, World!
Full House Michelle series
written by Gibbs Davis
Simon Spotlight, 1998
ages 7 to 10, ISBN 978-0671020989

All Michelle has to do to win the school's "Green Christmas" contest is to complete the most "earth-friendly" activities. Too bad she's acting so unfriendly towards everyone else.