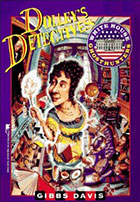 Find this book
at your local library.
Purchase this book at your favorite used bookstore, such as ABEbooks.com.
back to books
BOOKS
Dolly's Detectives
White House Ghosthunters series #3
written by Gibbs Davis
Aladdin, 1996
ages 8 to 12, ISBN 978-0671568573
When the mischievous spirit of Dolley Madison begins to undo the work of a White House interior decorator, everyone is blaming Molly. Molly and Ama team up to find out what the former first lady is trying to communicate. Will they find out before someone gets hurt?
Each book features an historic and contemporary mystery. With the help of the ghosts of past presidents and first ladies, Molly, her brother Jam, and new best friend Ama (daughter of Ambassador to Ghana) solve crimes. Who knew the White House was the most haunted house in the country!