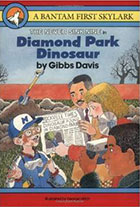 Find this book
at your local library.
Purchase this book at your favorite used bookstore, such as ABEbooks.com.
back to books
BOOKS
Diamond Park Dinosaur
Never Sink Nine series #9
written by Gibbs Davis
Yearling, 1993
ages 7 to 10, ISBN 978-0553481310
The baseball field at Diamond Park is being dug up for a shopping mall. Rock hound and teammate Felix couldn't care less. He's more interested in finding the perfect specimen for his rock collection. Then he discovers a dinosaur fossil at the construction site and becomes a hero on the playing field.
Each book features a different team member (boy or girl), and a game. Teammates on and off-the-field, the Never Sink Nine deal with school, family life, and sportsmanship.