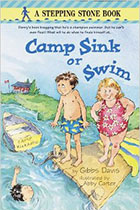 Find this book
at your local library.
Purchase this book at your favorite used bookstore, such as ABEbooks.com.
back to books
BOOKS
Camp Sink or Swim
written by Gibbs Davis
Random House for Young Readers, 1997
ages 7 to 10, ISBN 978-0679982169

Danny's been bragging that he's a champion swimmer.But he can't even float! What will he do when he finds himself at Camp Kickapoo where swimming is mandatory? Even worse, neighborhood bully Two Ton Tonya is there. A fun and touching story about two sworn enemies who unexpectantly become friends.